Good morning readers and welcome new subscribers !
The DD behind today's trade idea is in line with some of our biggest plays this year ! The talk behind this energy play is already picking up, and investors may begin to take notice of this stock again with any spark of interest.
Today's alert is:
FOFU - Force Fuels Inc.

 FOFU is on a mission to help power the nation through development of energy products including oil, natural gas, solar and wind.
FOFU

 trades on the OTCQB - the highest OTC tier.

FOFU

 is trading for just 

.082 per share.
FOFU

 has a history of big intraday moves.

FOFU

 has just 10.5 million shares outstanding according to otcmarkets.com
FOFU's Business Model: The strategy of the Company is to invest principally in the acquisition or installation of energy-based assets, which can contribute immediately and substantially to cash flow through sales to local energy companies, thus only requiring external or government financing for subsequent acquisitions and not for operating expenses.
In the short term, Force Fuels will focus on maximizing revenue from its recent acquisition of more than 2,600 acres of oil-producing land with 49 oil strippers and five natural gas sites.
FOFU's Oil & Gas Operations:
Force Fuels focuses on:
the purchase of marginally producing shallow oil wells, which are relatively inexpensive to operate and can be optimized with existing technologies
the purchase of leases with potential for additional drilling in proven producing areas; and
the acquisition of in-house know-how to further optimize production through stimulation, refurbishing and site optimization.
The company owns 13 viable, mostly contiguous oil and gas leases located in Montgomery and Chautauqua counties in southern Kansas, comprising approximately 2600 acres of land.
The purchase included 49 fully equipped oil strippers and five natural gas wells; as well as five salt disposal wells complete with duplex/triplex pumps; all settling, stock and water tanks necessary to service the wells; and several miles of tubing.
What type of market is FOFU tapping in to ?
According to government forecasts, the price range (in 2007 dollars) for crude oil for the next ten years will remain in the range between $80 and $115 per barrel.
US crude oil production in 2008 equaled 4,950,000 barrels per day. 21% of electrical energy generated in 2007 is from natural gas and 52% of US households are heated with natural gas. The majority of hydrogen produced in the United States is through reforming of natural gas. Oil reserves in the United States are not being depleted . In 2007,  the United States had 2% more proven reserves than in 2006. During the last 10 years, new yearly proven reserves have compensated for 96% of total oil production
Electrical Energy Production:
The Company will focused solely on the exploitation of proven and established technologies that can generate a positive return on investment and tax benefits applicable to green energy and oil revenues. While naturally taking full advantage of current government assistance and incentives, we place a significant premium on the economic self-sustainability of all our projects and how new technologies and policies may affect us.
Wind and Solar programs are being developed to work in synergy with FOFU's oil activiews
Annotated Chart: To view FOFU's annotated chart filled with technical analysis, please look below. This is a 6month chart, and you can see bullish indicators everywhere !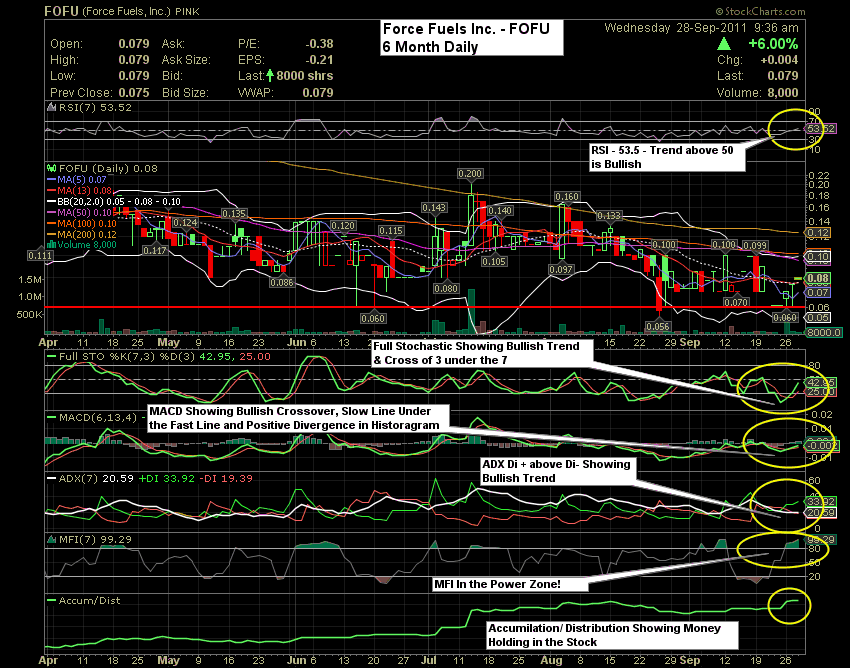 As you can see, FOFU clearly deserves more time in the spotlight. FOFU was very popular among traders and investors in the beginning of the year, and things are looking even better this time around. Others have taken notice of the potential FOFU's stock can provide traders, and that is why we are looking it as today's trade idea.
Make sure you are watching FOFU today ! Level 2 quotes will be posted on our Twitter throughout the day.
DisclaimerUpon receipt of this email, you acknowledge that you have read our Disclaimer. The following image is an abbreviated version