PennyStockRumors.net
Good evening readers and welcome new subscribers !
GRNE gave us 20% in gains, and after many requests, we decided to deliver our next sub penny alert to you tonight. We were going to
wait until a later date to bring you this play, but timing is everything in the stock market, and now may be the perfect time to
focus your attention on this company trading for just .0017 per share.
Our new sub penny alert is:
TOFS - 247MGI Inc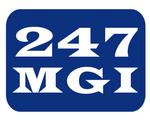 TOFS is a sub penny company trading at just .0017 per share !
TOFS just uplisted, which makes them just one step away from completing their merger.
TOFS is reducing their authorized shares by 54% !
TOFS is a one-stop media and advertising company that assists its clients by creating marketing materials utilizing technology driven
media formats for the distribution of information worldwide.
TOFS utilizes the Internet to deliver its content more efficiently and at a higher standard than its competition. TOFS has developed and
continues to create unique programs to include "LIVE" as well as streaming video content which will be delivered through the web and
via satellite.
Annotated Chart:
What you're looking at there appears to be a very bullish chart ! Please read our annotations for a full explanation of what we're
seeing here.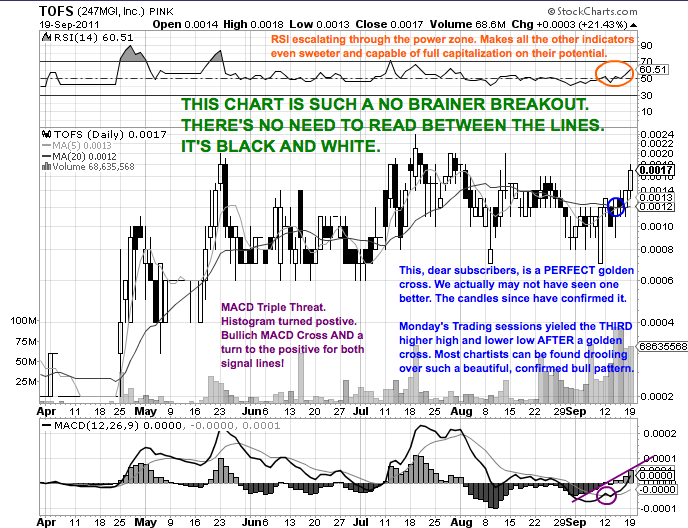 Recent News:
September 14, 2011 - 247MGI Uplist Complete - The Share Reduction to Take Place Then the Completion of the Merger
247MGI, Inc. ("247MGI") has moved to OTC Pink Current Information tier and the Company has also settled a legal matter reducing its
liabilities.
As stated previously, the Company would reduce its Authorized shares upon the successful uplist to "PK" status. Now, since that has taken
place the certificate shall be overnighted to the transfer agent to allow this to happen. Once the shares are returned, which can take up
to 72 hrs for the TA to complete the request, the Company will file an Amendment with the State of Florida to reduce the number of
Authorized shares from 3.5 billion to 1.6 billion.
The Amendment takes 48 hours to complete which will then be followed by the completion of the merger. At this time the Company can begin
to grow and work on its audit and then file an S1 registration for its new class of Preferred and become a fully reporting company once
again.
Read the full press release here - http://www.marketwatch.com/story/247mgi-uplist-complete-2011-09-14 .
-----------------------------------------------------
September 7, 2011 - 247MGI Begins Final Phase Prior to Its Pending Merger in a Multi-Billion Dollar Industry
247MGI, Inc. ("247MGI") has begun the count down to the close of its previously announced merger with a private company in a multi billion
dollar industry.
As stated previously the Company will reduce the amount of Authorized shares to 1,600,000,000 once the "PK" listing is completed.
Read the full press release here - http://www.marketwatch.com/story/247mgi-begins-final-phase-prior-to-its-pending-merger-in-a-multi-billion-dollar-industry-2011-09-07 .
-----------------------------------------------------
Why we are watching TOFS tomorrow:
As you can see, TOFS could turn out to be a very nice trade opportunity come tomorrow. TOFS closed at .0017 today, and even hit
.0018 several times. Those points are very crucial pivot points for some traders; will tomorrow be a day of testing previous highs ?
Also, just 5 days ago the company finished their uplisting, which according to previous PR's, is the last step required before their
merger into a "multi billion dollar industry" is complete.
Add TOFS to your watchlist right now ! TOFS is a very popular stock and once investors catch wind of the imminent news and today's
trading activity, we may be in for a treat !
Disclaimer
Upon receipt of this email, you acknowledge that you have read our Disclaimer. The following image is an abbreviated version :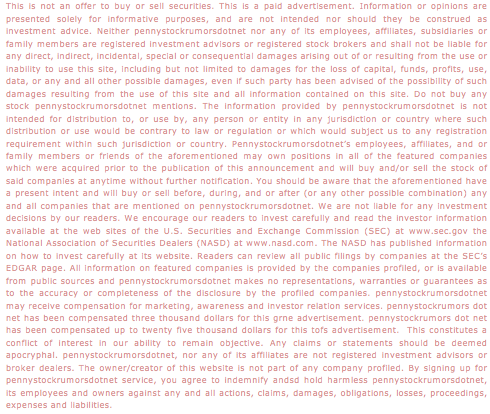 Category: Featured Plays