"Dump the run" refers to a term where a stock falls significantly, and is met with intense buying at discount prices. One of the most popular "dump the run" plays was BANI.
BANI was a fairly inactive stock, with the last sale price being 1 cent. In may, the stock fell sharply, hitting .0007 several times.
At the time, BANI was down 93%. Over the next 2 days, BANI saw huge amounts of buying. The next day, BANI traded as high as .0024, representing a 300% + gain. The second day, BANI traded up to .0078, representing a gain of over 1000% had you grabbed shares toward the bottom of this run. Even from .001, BANI gave gains of over 600%. This started a new trend for penny stocks, and since BANI, we have seen several other plays very similar. It is rumored that some companies do this on purpose to create free awareness for their company.
One question people ask is how can you find these stocks as they are happening. One technique guaranteed to give you an advantage would be to set up an Equityfeed screener. Here is the criteria we use for our "dump the run" screener.

We like to sort this screener by percentage change. You can sort yours however you like.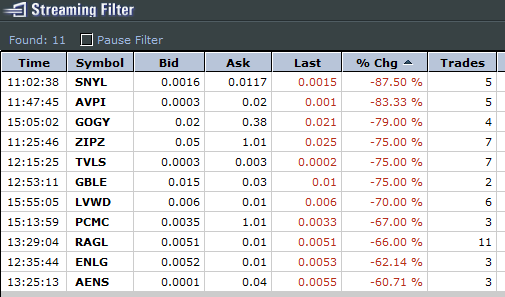 We run this screener on a secondary monitor, and check on it when we see some movement. We believe that this screener is better than waiting for chatrooms to share the information. We can't tell how you to trade these plays, but if you see a stock down 95%, and steady buys at ask, it may be time to look deeper and evalulate level 2.
This tutorial is for informational purposes only. It is up to YOU how you use it. This screener will only bring potential "dump the run" candidates to your attention faster than waiting for a loyal chatroom member to share the info. We are not affiliated with EquityFeed in any way.
Subscribe free at http://pennystockrumors.net